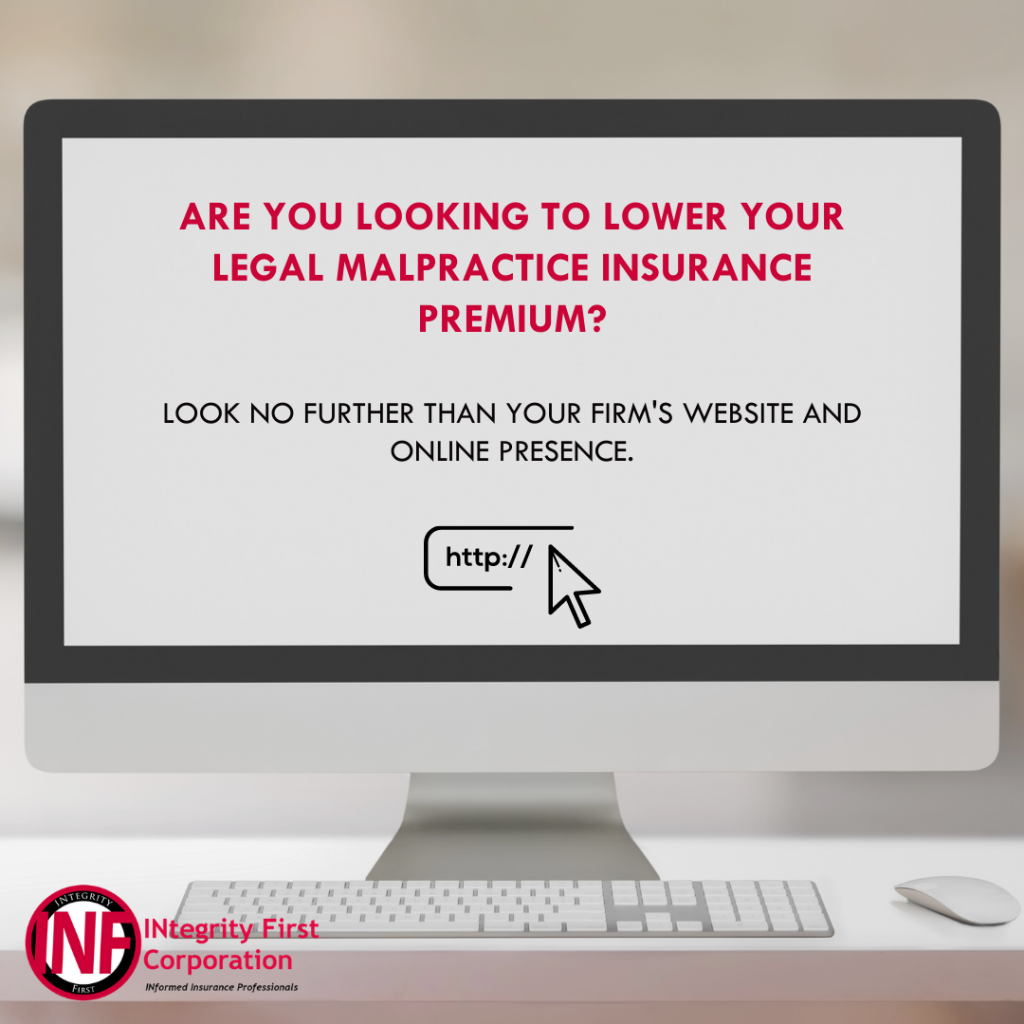 Are you looking for ways to lower your legal malpractice insurance premiums and help turn prospects into firm clients? Look no further than your firm's website and online presence.
Insurance carriers now review your firm's website in an effort to try and get a better picture of you. They are looking at the site content describing your areas of practice, the type and size of your clients, risk management procedures, articles in the firm newsletter, blog, your Google My Business profile and social media feeds.
They are trying to determine if your law firm's site conforms with the ABA and or state bar association rules and guidelines on advertising and e-platforms. What the underwriter sees and interprets from your site will impact on how he or she views the exposure your firm creates and will influence the pricing up or down.
One of the content items that seems to regularly raise a red flag is the listing of the firm's practice areas on the site. Firms will often boast several areas of practice on the site, some of which they haven't had a case in that area for years.
I realize that it may seem like a good idea to list as many areas as possible to try and draw in clients. I have even spoken to firms that have told me that they want the web site to project the firm as having that "large firm" appeal or sophistication impact.
From an underwriting and pricing standpoint, know that it can have a negative impact. Especially if several of the areas of practice are considered higher risk areas such as: Oil and Gas, Securities, Intellectual Property (copyright patent trademark), Class Action and some Employment law.
Additionally, from a marketing standpoint, listing areas of practice that you do not typically deal in can have negative effects on your search engine optimization as well. Google wants to know what your firm does well and they want to show your website to people searching for that skill.
When you list many areas of practice and don't have a concentration on a particular niche, your website is less likely to show up in the organic search results for what you do best!
Please know, I am not trying to tell you how to advertise or practice. That obviously is up to you. I am telling you that you should be as accurate as you can with the content on your website, Google My Business listing and social media profiles.
Know that people other than prospects are looking at your website including insurance carriers and even your competition. Keep your online presence updated, relevant and interactive.
It will give the insurance carriers an accurate picture of your firm, coordinate and confirm the information you list on the malpractice application and help drive the type of prospects to your website the firm wants to have as new clients.